Although the European Union has created a 'single market', Europe's mobile phone users aren't seeing the benefits they might expect. That's the opinion of European Commission Vice President Neelie Kroes, who has been talking about the results of a study into phone call costs.
She points out that the cost of making a national mobile phone call in Europe varies by 774% when Lithuania, the cheapest country, is compared with the Netherlands.
In contrast, the cost of a litre of milk can be bought for between €0.69 and €0.99 in the EU – a price difference of 43% – while an Apple iPad only has an 11% price difference across the EU.
Neelie Kroes said "As these numbers clearly show, the 28 national telecoms markets in Europe today are not benefitting consumers like a single market would. It is critical for the whole EU to move quickly to build a real single market to achieve a truly connected continent."
New EU moves to strengthen the single telecoms market are expected next month.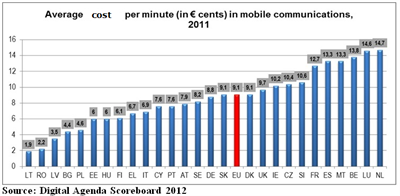 Reprinted from